Sometimes, in life, you just want to take the bull by the horns. Well,  in Life Selector you can do just that, except instead of a bull it's a girl and the horns are her hair.
This unique POV sex game lets you choose a variety of actions throughout each show. There are 2,873 live-action shows on the site and each show is made up of many short clips. During the video clips, you are presented with options.
For example, you can choose between doggy style, going at it in the shower or turning the girl in question down. The options change with every clip and are presented every few minutes. The total playtime varies, but in general it amounts to about 40 minutes per show.
Life Selector –  first impressions
This is the best site I've come across so far for interactive sex gaming. When watching one of the 2,873 shows, you are presented with different options, every few minutes. This is great for immersion, because you decide where it's going, you are basically the director of the show.
There are so many categories of shows to choose from; the girlfriend experience, step fantasy, facial, the options are nearly limitless.
For this review, I played "A day with Riley Reid", the girlfriend experience, and I got to wake up with one of the most famous porn stars in the world, Riley Reid (real name Ashley Mathews). I watched her shower, and decided how to start the day together. Should I finger her in the shower, or have her wash my cock? Decisions, decisions… The options you are given are not all sex based, but many are.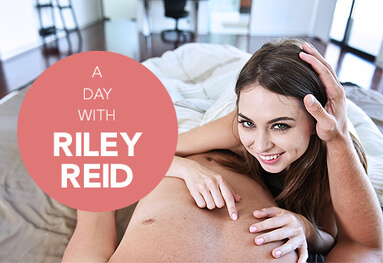 The models
Where Life Selector differs from many other 'virtual sex' games are the models. You will find an incredible cast like Aletta Ocean, Dillion Harper, Keisha Gray, Jessa Rhodes and Riley Reid. You can find a list of all the models that star in the shows on the Life Selector website.
How to play Life Selector
Life Selector is an online application, so you can't download the game. They do have a custom streaming player that fills up the (w)hole (pun intended) screen. Sadly, it's not in HD yet at the moment, but on my laptop the resolution was quite sufficient.
Another thing that's different with Life Selector is that there is no subscription model involved, the game is entirely credits-based. You can join for free but every action you make costs about 5 to 15 credits on average. The cool thing about a credit-based model is that you can relive every action taken, you just need to login, tap on the show you already played in the past and relive it again!
With Life Selector there is no chance of being bored, every week there are a couple of new shows being uploaded. Frankly, at this moment there are no other interactive sex games like this on the market. If you want to be the porn star in your own movie, just try it, you'll see, it's addictive.
Pros and cons
Pros
real interactive
amazing cast
new shows every week
relive the videos you've made
Cons
no HD
credit based model
the narrator's voice is not great
Life Selector Pricing
There's no monthly subscription or anything like that. Instead, every time you make a choice in a play-through, it can cost anywhere from zero to 15 'credits'.
You can buy one-shot packages of credits, or monthly packages of credits. Here are some pricing examples:
One-off: $ 9.95 for 105 Credits, $ 14.95 for 205 Credits or $ 39.95 for 1050 Credits
Monthly: $ 29.95/months for 525 monthly credits or $ 49.95/months for 2000 monthly credits

Technical specifications
The entire game is online and browser-based, so there isn't really a 'technical limit' as long as you have a current-day, reasonable device to use. Pc's and Macs are recommended for the best experience though, as not all mobile devices are supported.
Recommended browsers are Mozilla Firefox and Google Chrome.
Technical details:
file type: mp4
video stream: h264 high profile video stream, level 3.2
audio stream: mpeg-2AAC audio stereo, 48khz, 128 kbit/second
resolution: SD 640×360 (16:9)
bitrate/settings: 1500-2000 kbit/second
frame rate: 25p – 30p – 50p