IMVU is the single largest free-to-play 3D social network & virtual world with over 3 million active users. Customize your avatar, meet new people and chat with them online using your 3D avatars.
Read our IMVU review to find out more about this exciting virtual world!
IMVU
For those who have never heard of IMVU before, it's important to know what it is, and what it isn't. Despite how it may look at first glance, IMVU is not a game.
Technically, a more accurate way to describe it would be a 3D instant messenger service. Since that description doesn't speak to the imagination much, we prefer to call it a chat room with 3D avatars, or even more accurately: an online social community where you can interact with other members through 3D avatars. Basically, it's a fun alternative to the likes of Second Life.
IMVU has been around since 2004 and has acquired one of the largest userbases in the landscape of 3D online communities.

What to do in IMVU?
The first thing any new IMVU user should do is take the time to personalize their avatar.  There are over 3 million different items to choose from, allowing you to customize your avatar however you want.
Once you're ready, you can take your first steps towards meeting exciting new people. As an IMVU user, you'll never run out of new people to meet. You can hang out in the 3D chatrooms and connect with people from around the world.
Many users decide to use IMVU exclusively as a platform to meet new people and chat with them in a 3D environment. However, there are many more activities to engage in, such as creating your own content and making it available to other players. These designs can then be posted for free in the IMVU catalog, where they can be purchased by other users.
You also get access to your own space, which you can decorate, furnish  and design however you want. Once your personal space is complete, you can invite other members to visit your room, or even put on some music and host your own party.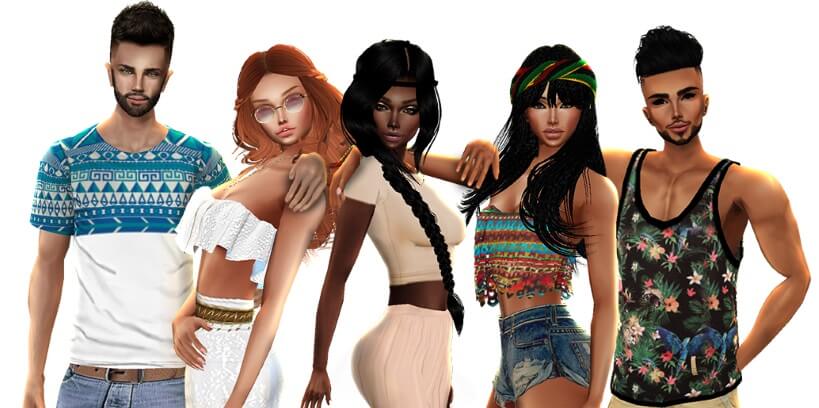 What's the target audience?
IMVU is open to users who are 13 years and older. However, the main demographic is between 18 and 25 years old. You will meet people from all walks of life and many different nationalities.
While the application is free to play, there are certain restrictions for free accounts. As a free player, you can't create your own content. However, you are free to explore the 3D chat rooms, make new friends and chat with them, listen to music or watch videos.
Any free account can be upgraded to a VIP account at any time for a monthly fee of $9.99. VIP accounts are ad-free and get access to additional wardrobe options, avatar actions and can design and sell their own creations.
Conclusion to our IMVU review: What we think!
Well, that's it for our IMVU review! If your looking for a fun, 3D virtual chatroom with an adult vibe, IMVU might just be the thing for you. The large userbase and the many customization options make it a fun alternative to social networks.
Since the largest portion of IMVU is actually free-to-play, it's definitely worth checking out!
Want to give it a try? Download the game right here for free!
External references